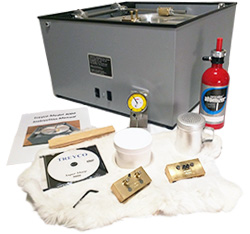 Customer Testimonials
Here's what some of our customer are saying about our Clipper Blade Sharpening Machines:
"The best decision I ever made! Treyco Model 2000 Clipper Blade Sharpener is very reliable and user friendly with professional results. Questions are always fully answered in understandable terms by Treyco's top-notch staff. You won't go wrong with this product or company."
Christine H., Owner/Groomer/Sharpener
Canine Country Club
Lutz, FL
"In 2009 I decided to add clipper blade sharpening to my sharpening business. I found the Treyco website to be very informative and after a couple of emails, I was convinced that the Treyco 2000 was the machine which suited my requirements. This has proved to be a great decision for my business. Not only does the Treyco clipper blade sharpener do a great job, it is simple to use. The support I have received from Treyco is first class. Michele who handles the reorders of stock and parts is the most dependable person I know in business. Many thanks Michele and Treyco."
Doug S.
Bladetek
Sunshine Coast, Australia
"I would like to reiterate how well your product performs. One animal groomer - a fussy one!, told me the blades were the sharpest she'd ever had. Another customer, also an animal groomer said it was worth the extra money for the excellent work (I charge a bit more than others in my area). Thank you for all your assistance!"
Ronald T.
Grants Pass, OR
"Our company has been in business since 1987, and we have four Treyco automatic machines. In fact, we use nothing but Treyco products because, we've found that competitive products simply don't hold up to Treyco's quality. Besides the great products, your people have been very helpful in answering our questions and providing personal assistance."
Sharon & Scotty
Newport, KY
If you would like to provide your own testimonial, we would love to hear from you! Please contact us at info@treyco.com.