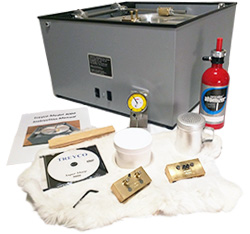 Treyco's Honing Disc Resurfacing Progam
With normal use and maintenance, Treyco's honing disc will sharpen approximately 300 to 500 sets of small animal blades per side. Once your disc is worn out, it needs to be sent in for resurfacing.
How you can tell if your disc needs to be resurfaced is either the grooves will have begun to wear out and/or one particular set of blades (usually No. 7 or No. 10) will start to become a repeat problem.
The following are steps for sending in your disc to be resurfaced:
Discs must have a serial number and type stamped on both sides. (We do not replace discs without a serial number).
Resurfacing of the honing discs arc started every MONDAY - Discs must be here by the previous Friday in order to be included in that particular batch. (NO EXCEPTIONS)
Clean and rinse disc before returning unless specifically told otherwise by a technician.
Return disc in the original box - please retain box for future shipping.
Upon receipt of honing disc by UPS - open package immediately. Damage to the honing disc must be reported to UPS FIRST and then to Treyco Products.
When a disc becomes too thin to be resurfaced - Treyco Products will replace the honing disc stamped with the same serial number at the cost of the resurfacing. (A disc can be resurfaced approximately 6 to 10 times.) No replacements for disc without a serial number.
Resurfacing of the honing disc must be done by Treyco Products ONLY. The warranty, guarantee or replacement of the honing disc is immediately void if resurfaced by another source.
Treyco honing discs are to be used for clipper blades ONLY.
Treyco Products will not resurface any disc that has been modified in any way.
Treyco Products does not resurface any other manufactured honing discs.
All resurfacing must be paid for at the time of completion or a $5.00 monthly storage fee will be charged per month for storage of the honing disc until paid.
When honing disc resurfacing or new honing discs are on special - it must be ordered, processed and paid for during that particular month or you will be charged the original full price.
**CALL TREYCO PRODUCTS FOR THE COST TO RESURFACE YOUR HONING DISC**